Relax. Release. Rejuvenate.
Escape the hustle and bustle of everyday life on 22 acres of pristine forest land nestled in the heart of the Cherokee National Forest.
Welcome to Starr Mountain Retreat
Amazing Views & Cozy Comforts
Our secluded cabins with covered porches, provide treehouse like views of the surrounding woods and are spaced so that you truly feel like you're alone in the forest.
Enjoy Nature Without Sacrificing Comfort
A Secluded Mountain Paradise
Free Wi-Fi
Our internet connection is via Starlink. On occasion, we lose satellite signal, but when they are overhead, the connection is great!
Horse Paddock
If you want to bring your horses, we have a small shaded paddock set aside for them, so they can get out of the trailer and stretch their legs.
Free Parking
Each cabin has plenty of parking for cars, trailers and whatever you bring.
Washer & Dryer
A Washer and Dryer are available for use in the Lodge Building.
Full Kitchen
Cabins have kitchens with a stove, oven, fridge, sink, coffee maker and gas grill on the porch. Coffee, tea and some spices provided.
Hot Tubs
Several of our cabins have Hot Tubs so you can enjoy a relaxing, private soak.
Free Firewood
The management of our woodlands enables us to harvest trees for use as firewood and lumber for future projects.
Games & Library
We have a large collection of games, DVDs, and books for anyone who wants to borrow them.
Air Conditioned and Heated
All our cabins are air conditioned and heated for your comfort.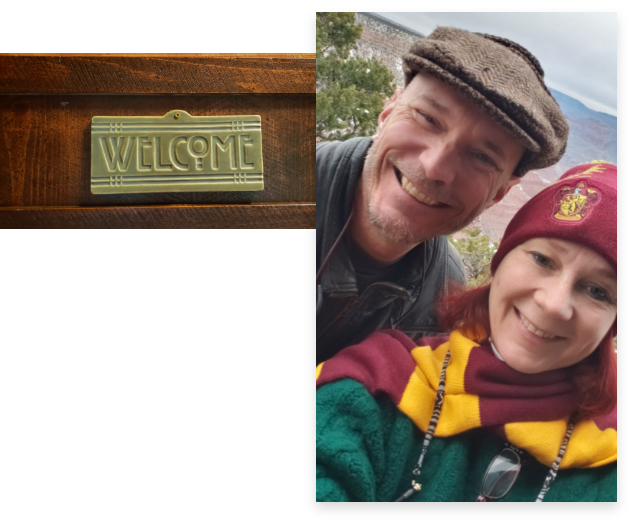 Nola and Brian are seasoned Premiere and Super Hosts with years of hospitality experience as both hosts and travelers. They are constantly working to improve Starr Mountain Retreat and are slowly transforming their forever home into an off grid, event space paradise.
You can follow our progress on YouTube, Facebook, and Instagram: